Perla Organization is present at markets several times a year both in Summer and Winter.

Last summer, we chose Renens. It is a city near Lausanne in the canton of Vaud, with a reputation for its cosmopolitan feel. 
We sought primarily to raise awareness and to offer preventive action in the matter of human trafficking. One of our volunteers walked through the market approaching people and distributing brochures. Most people listened to what he had to say. This was encouraging for us. Some people, including a group of youngsters, supported Perla by buying one of our products or started a conversation about human trafficking. For me, it was a success because human trafficking affects more and more young people, including the Swiss. I also met a young Romanian girl with a baby. Unfortunately, she did not speak French or English. As I continued on my way, I met a Cameroonian lady who seemed particularly affected by the subject of human trafficking. This is what she shared:
This Cameroonian woman has a daughter who was a victim of human trafficking at 16. As a mother, she suffered immensely from this situation, and her pain was clear to us. She told us that the relationship with her daughter was complex and she wanted to make an appointment to talk about it with us. We took down her contact details.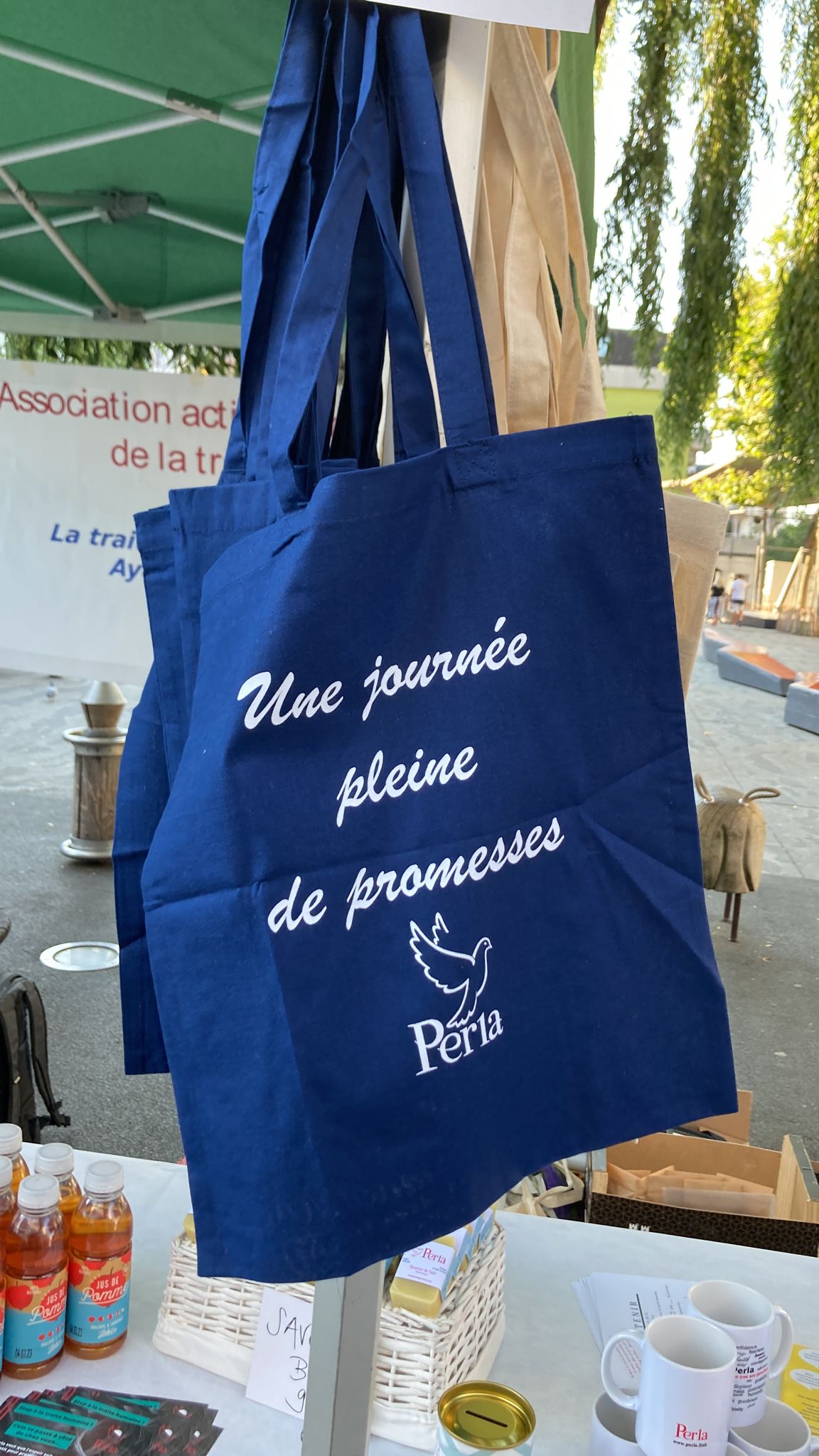 We also met a Swiss woman who had a neighbour who worked in prostitution in Renens and who was never allowed to go out until the day the door of the apartment where she was locked up was open, so she escaped without knowing where to go. This Swiss woman helped her. Currently, this victim of trafficking is in the Valais region of Switzerland where she is lodged by a man. Moreover, this woman had a child conceived while she was working in prostitution. She is still in an unstable situation. We gave our interlocutor our contact card and flyers to be shared with the woman in the Valais. 
In addition to this sensitization to the reality of human trafficking, we also offer artisanal products: apple juice, soaps, Perla cups, various spices, Perla bags, salad dressings, etc. We would like to take this opportunity to thank each producer and artisan.
The organization of these markets requires the commitment of volunteers, who come for a few hours and make these events possible. We would also like to thank each one of them. If you are interested in organizing a booth at a market in your area, please contact us at info@perlaorganisation.com.
Géraldine Paçarizi, fundraising and events manager